Why LED Lighting could reduce business energy bills by 55%
According to the Carbon Trust, lighting accounts for around 20% of the electricity used in the UK, with 75% of installations being out of date and unable to meet current design standards.
With a growing number of UK companies experiencing the soaring costs of increased electricity & gas bills, CMS are advising customers to review their lighting usage, which is the single biggest energy expense that businesses are likely to face.
By investing in LED lighting, businesses can keep in line with government legislation, reduce their carbon footprint and save money.
How can LED Lighting reduce energy costs?
In general LEDs require much less electricity to power than compared to traditional incandescent, halogen, and energy efficient light bulbs (CFLs).
As well as being 80% more efficient when compared to incandescent bulbs, LED lighting will also last much longer, in some instances up to 10 years.
The way an LED works is by passing electrons through a semiconductor and subsequently have no filament to wear out, meaning they won't get as hot.
Traditional lighting loses almost 95% of its energy simply just by producing heat. With LEDs this figure drops to just 5%.
What are the cost savings of LED Lighting?
Whilst the cost of upgrading to an LED lighting system across your business premises or across multiple sites may seem like a barrier for not switching, on average businesses will generally see a return on investment within the first 3-4 years.
On average an incandescent bulb lasts around 1,000 hours, compared to an LED bulb, which has a lifespan of around 50,000 hours, resulting in lower costs across replacement bulbs and labour.
With incandescent bulbs no longer being manufactured alongside the recent EU ban on halogen bulbs and many major lighting manufacturers now investing their efforts into LEDs, the cost of LED lighting has reduced significantly as more LEDs are mass produced and sold.
Below is an example of the cost savings which could be achieved.
This is an example is for a business centre which comprises of three buildings with workspaces from 100 sq ft to 2,000 sq ft, and is currently home to 62 businesses.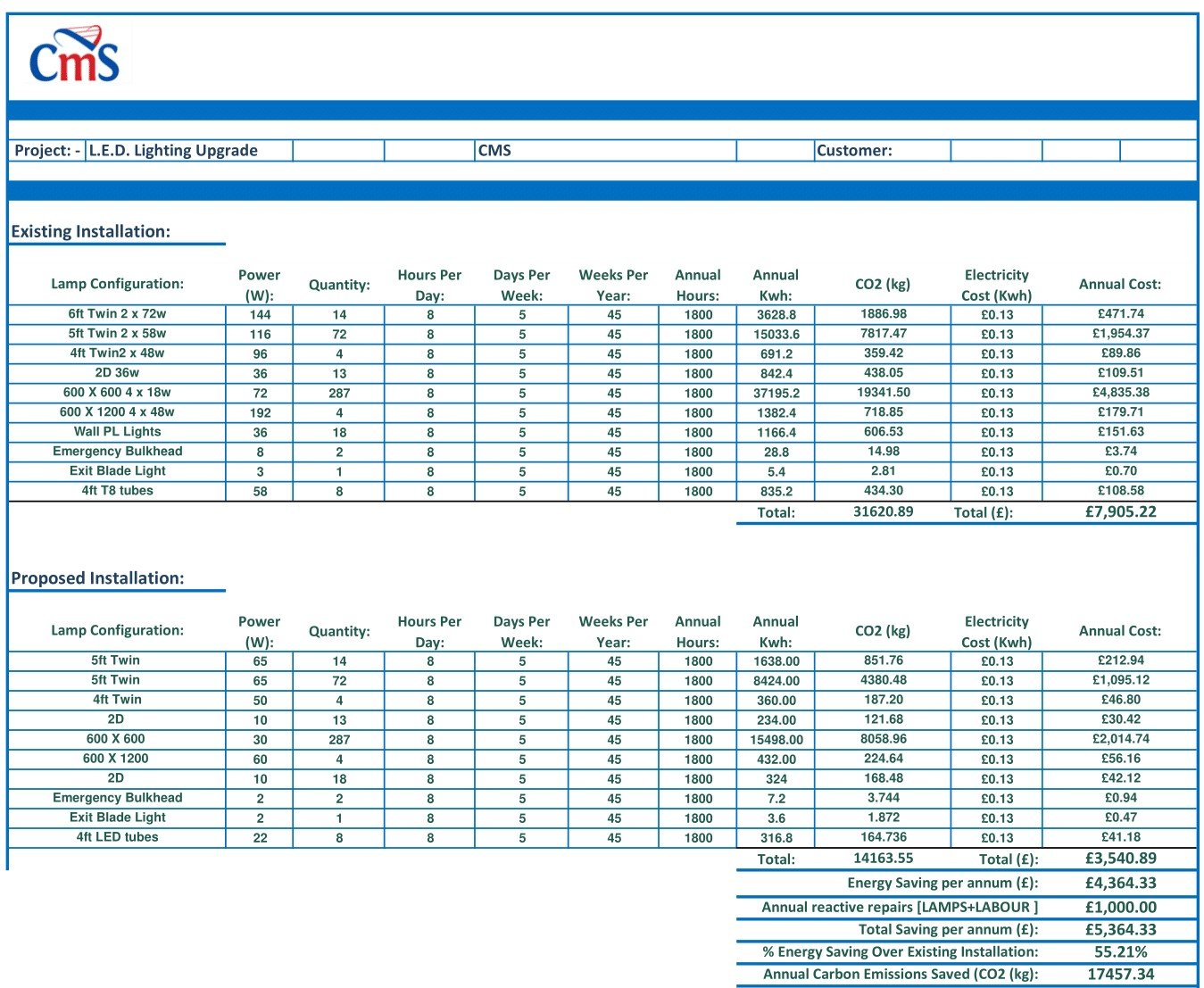 What support is available for LED Lighting Installations?
Across the UK there are a variety of grants, loans and schemes which aim to support small and medium-sized businesses reduce energy use and their carbon footprint.
Whilst some funding schemes are available nationally, others are regionally based.
Many local authorities offer loans, grants or subsidised energy-saving measures, a starting point for most businesses would be to check their local council's website for support available.
The Office of Gas & Electricity Markets (Ofgem) website also provides a range of resources to find for funding energy saving schemes across the UK.
Another source of funding available may be available via energy companies who can offer small business energy-efficiency schemes or grants depending on the size of your business, your location and your business sector.
Super-tax deduction
On the 1 April 2021, the Government's new Super-deduction tax scheme was introduced to enable businesses to claim 130% capital allowances on qualifying plant and machinery investments, up until the end of March 2023.
This means that for every pound a company invests, their taxes are cut by up to 25p.
Qualifying plant and machinery assets include LED lighting, Electric Vehicle (EV) Charging points, Solar Panels and more.
More information can be found by reading the Super Deduction Tax Fact Sheet in this link.
Where can I find Commercial LED Lighting Installers near me?
Commercial Maintenance Services UK Ltd (CMS) have been providing Electrical installation services, planned preventative maintenance and reactive repairs to customers throughout the UK for over 22 years.
Our specialist teams operate 24/7 service, 365 days of the year and can provide a comprehensive solution from initial energy reports through to design and installation.
Ensuring that our customers can also evidence the savings they make through upgrading to LED systems, CMS also provide integrated intelligent building controls, accurately monitoring your return on investment and reduction in energy consumption.
Who do CMS Work with?
We pride ourselves on our industry specialists working with a variety of sectors including Manufacturing, Hotels, Schools, Colleges, Care homes, Hospitals, Retail Outlets and Hospitality Venues across the UK.