Customer Profile
Clipper are one of Europe's leading retail logistics providers, with an unrivalled reputation for ensuring their customers deliver on their promises.
The company's vision is to be global leaders in fully integrated, end-to-end e-commerce logistics, defined by their ability to innovate, collaborate, and operate at the forefront of technology.
With 55 sites across Europe and over 500m units delivered each year, Clipper provides customers with quick access to experts in warehouse design through to project management and implementation, ensuring rapid delivery of customers effective solutions.
Requirements
CMS was contracted by the global logistics company to update the air rotation units within a large warehouse facility in Crick, Northampton.
The warehouse was experiencing Heat loss/energy usage with calculations indicating that the site required a total of c. 550 kW of output from the Air Rotation Units for the approx. 200,000 m3 building volume, based on the performance criteria specified, verified by the manufacturers, Powrmatic.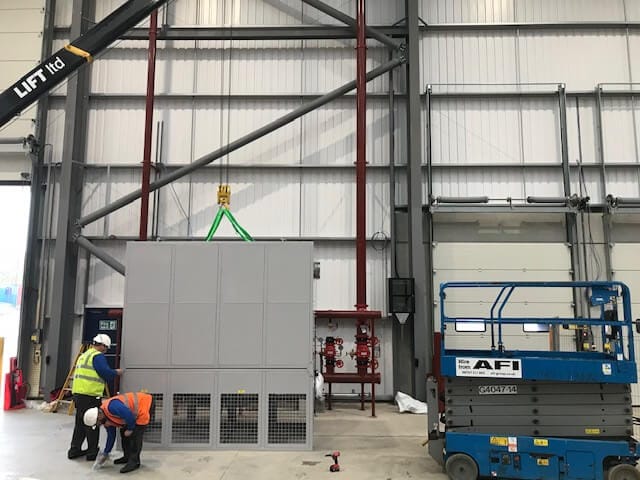 Solution
As an NICEIC approved electrical contractor, GAS SAFE registered installer and an HVAC approved heating and ventilation contractor, CMS were appointed to carry out the works delivered in house by the appropriate teams.
Base Scope:
*Isolate gas supply and split top flange of DN100 PN16 ECV and cap.
*Run new gas supply up to high level fitting a tee to connect to the existing air handling unit which feeds the office space.
*Install fixings along the length of the roof and Run new 6-inch gas supply at a high level (>100m long at >10m high).
*Install a tee run along at a high level before dropping to a low level for the individual heaters.
*Install the heaters on the side of the building with the rollover shutter doors.
Air Rotation Units:
*Supply & Commissioning of 1 x 250 kW Air Rotation Unit with associated flue attachments by the manufacturer.
*Decommissioning & dismantling of existing 300 kW Air Rotation Unit in Northampton Factory, shipping to Crick and re-commissioning.
"
CMS undertook a challenging installation of high level gas pipes and air rotation units, completed on time and to budget.