Customer Profile
New College Bradford is the provider of choice for 1200 students in the Bradford Region. The purpose-built sixth form college opened in September 2019 with what is believed to be the highest number of new students attending a free school in its first year and has consistently been over-subscribed since. As well as being the largest provider of A-Levels in the region, the college offers a range of applied general qualifications for students from the Bradford area.
New College Bradford joins New College Pontefract and New College Doncaster in the New Collaborative Learning Trust created in 2015.
Requirements
New College Bradford required the services of a specialist contractor for the PPM service and maintenance of the electrical and mechanical installations throughout the campus working to SFG20 (The standard maintenance specification for building engineering services).
Within the 5-Storey building features a Sports hall and Gym, Science Labs, Recording Studios, Classrooms, Student Union as well as a Kitchen and Dining Hall all with their own unique requirements with regards to gas, heating, air conditioning, water and electrical services. Due to the nature of working in a live college environment when undertaking reactive works , the Trust highly prioritises the Safeguarding and welfare of young people with their robust Child Protection and Safeguarding procedures in place.
Therefore it was essential that the selected contractor had stringent Health and Safety procedures and enhanced DBS checks in place for their own directly employed staff.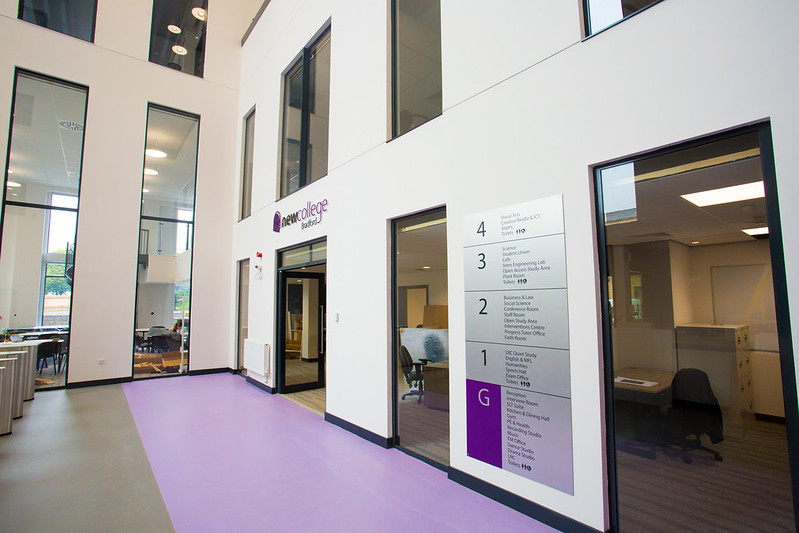 Solution
In Spring 2021, the College appointed CMS for the PPM service and maintenance of the electrical and mechanical installations including, boilers, air handling units, air conditioning units, emergency lighting, LV distribution, fire dampeners, and gas fired water heaters.
Working on a live college campus in the middle of a city has many intrinsic challenges, including managing access, occupancy and safety. Working closely with the Trust's Estates team, CMS developed an advance calendar of annual and 6 monthly planned service visits to be completed during school holidays to minimise any disruption to staff and students whilst in occupation. With a team of over 100 qualified and enhanced DBS checked engineers located throughout the UK, CMS have been able to accommodate the access requirements surrounding school holiday periods.
Due to CMS' relationship with national suppliers of parts and spares, all non-emergency repair works are also undertaken during the school holiday period, ready for the reopening of the new term.
"
Since working with CMS we have found their team of multidiscipline engineers to be extremely skilled and have been very pleased with their service levels.
Estates Manager, New College Bradford